How to Make a Custom Wedding Snapchat Filter
Want to personalize your wedding (and related events) even more? Create a Snapchat geofilter your guests will love—here's how to do it.
by Maggie Seaver & Emily Platt
One of our favorite parts about weddings (other than celebrating the official union of two love birds, of course) is how couples are free to personalize every aspect of their day, from their ceremony aisle décor to their wedding favors. But there's one way to really up the ante: customize your own wedding Snapchat filter! Creating a Snapchat geofilter for your wedding lets you put a personal stamp on everyone's day-of Snaps—and it couldn't be easier to do. (Plus, with the Snapchat Memories feature, you'll all be able to save and relive your favorite wedding moments with your personalized filter too.) Of course, these special geotags aren't just for the wedding day itself. You can also create one for every other related event! Wondering where to begin? Here's exactly how to get your own Snapchat filter, plus more important deets about this unique wedding detail.
In this article:

What Is a Custom Snapchat Filter?
Snapchat wedding geofilters are simply custom Snapchat filter designs you can create, buy and make available for guests to use at your nuptial events. Anyone can make their own Snapchat filter for any event(s) right in the Snapchat app. You could have one custom filter for your engagement party, another for the shower and bachelor/ette, and another for your wedding weekend. Once you've created and purchased your filter, it works the same as any other Snapchat filter: Snap a photo and swipe until you see your unique design. Then send!
How to Make a Snapchat Filter for Your Wedding
It doesn't take a degree in graphic design to create your own wedding filter—promise. Just follow these easy steps:
Open your Snapchat app to the camera screen
Head to your profile by hitting the icon in the upper left corner of your screen
Once you're in your profile, tap the settings icon in the upper right corner, then scroll down to tap "Filters & Lenses" (this will take you to a new screen)
Tap "Get Started!" then "Filter" (note: You can also create a custom lens by clicking "Lens")
Choose the type of event you want to customize—either create a custom design from scratch or select one of Snapchat's available templates (choose from categories like "Weddings", "Bachelor/ette" and "Celebration")
From there, your screen is your canvas: Deck out your filter with text, images, stickers, borders and more
Satisfied with your filter? Hit the checkmark icon and select the timeframe you want it to be active during
Then, select where you want the filter to be available (hence why Snapchat filters are sometimes referred to as geofilters and geotags)
You're almost done—amazing. Now it's time to name your wedding filter, confirm the details and submit it for approval
Once submitted, Snapchat will let you know when it's been approved and ask you to confirm payment (yes, it costs money to create a geofilter)
If you'd rather use your desktop to create your Snapchat filter, you can through the app's website. That's also the easiest place to upload a design if you've purchased one from an outside source—more on that right ahead.
How to Buy a Snapchat Filter for Your Wedding
You also have the option of commissioning a personalized Snapchat filter or editing a template you purchase from someone else. If you want to buy a Snapchat filter, we recommend browsing Etsy—the online marketplace has options designed for practically any theme, season, location or taste. (And if nothing strikes your fancy, you can work with one of its sellers to create a totally bespoke option!) Of course, this will up your Snapchat filter's cost (you'll have to pay for the artwork in addition to Snapchat's usual fee) but luckily, there are lots of affordable downloads to choose from.
The process looks a little different depending on who you buy a Snapchat filter from. Some Etsy sellers will design a one-of-a-kind geotag just for you. Others will modify a template they've already created using your information and color palette. In both cases, they'll typically send you a mock-up to approve before finalizing things. Sometimes, for an added fee, the artist will also upload the file and submit all the details to Snapchat for you. Alternatively, you can purchase an editable template to download, customize and submit yourself.
Get shoppable inspiration for the above, below: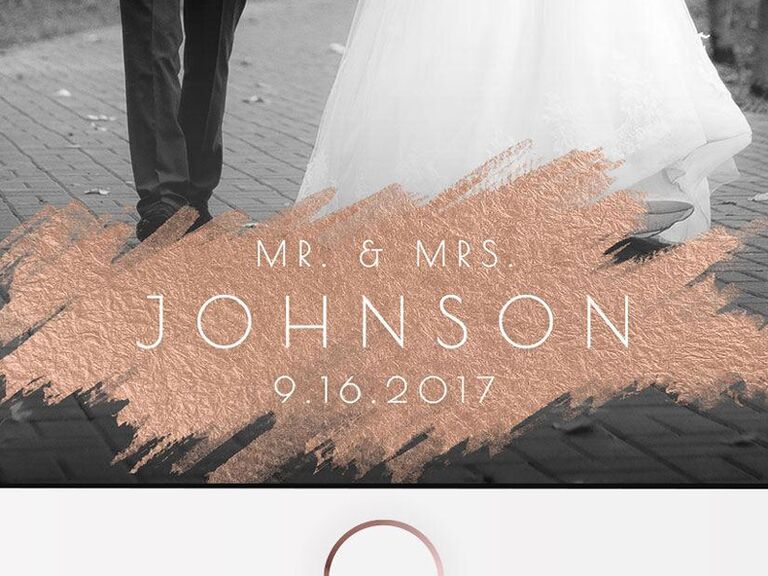 Here's an example of a stylish instant download with rave reviews. You can customize the text that appears on the chic rose gold backdrop yourself.
Printable Moment rose gold foil wedding Snapchat filter editable template, $6, Etsy.com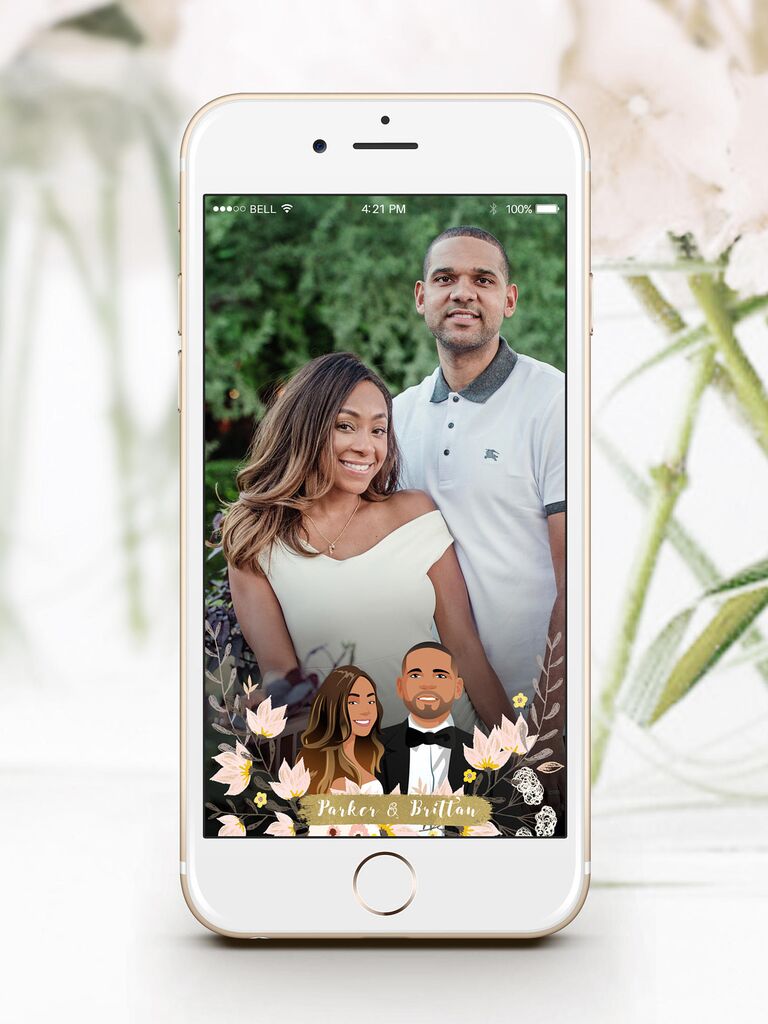 This seller will create a custom portrait of you and your spouse—how cool. Add special details—like your wedding flowers or even your dog—to the design to really wow.
XO BSpoke personal portrait caricature custom Snapchat geofilter, from $59, Etsy.com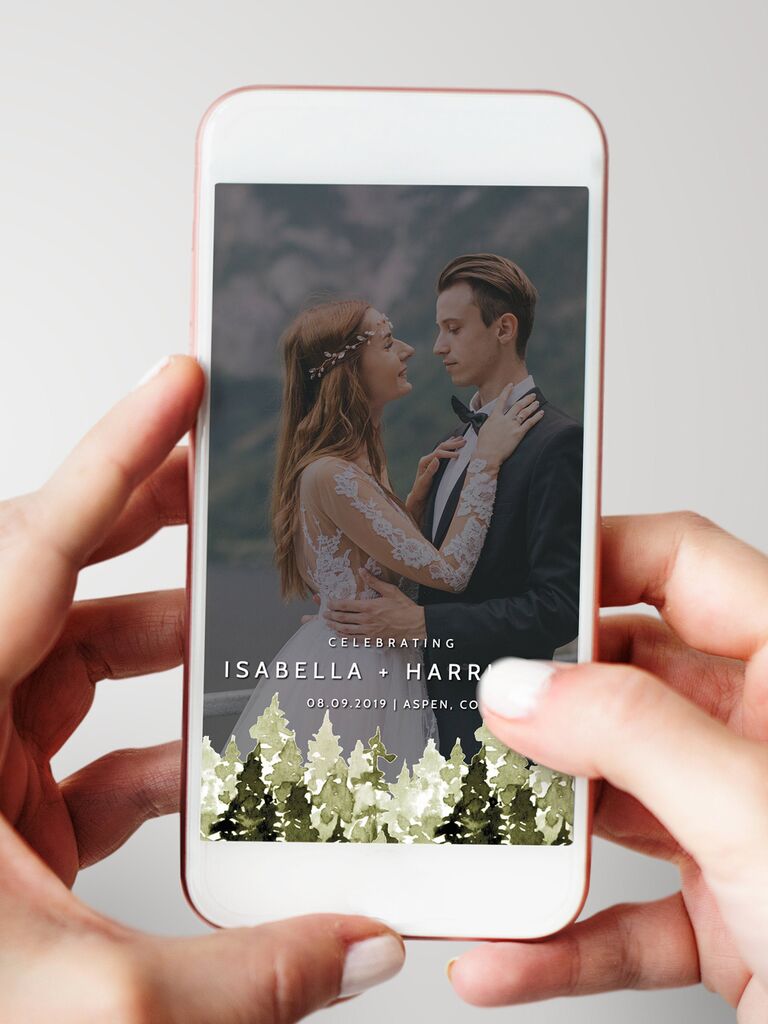 This Etsy shop sells tons of pretty editable templates, from this geofilter perfect for a rustic mountain wedding to a more modern, watercolor-washed one.
Unmeasured Event Jenna rustic pine Snapchat filter template, $10, Etsy.com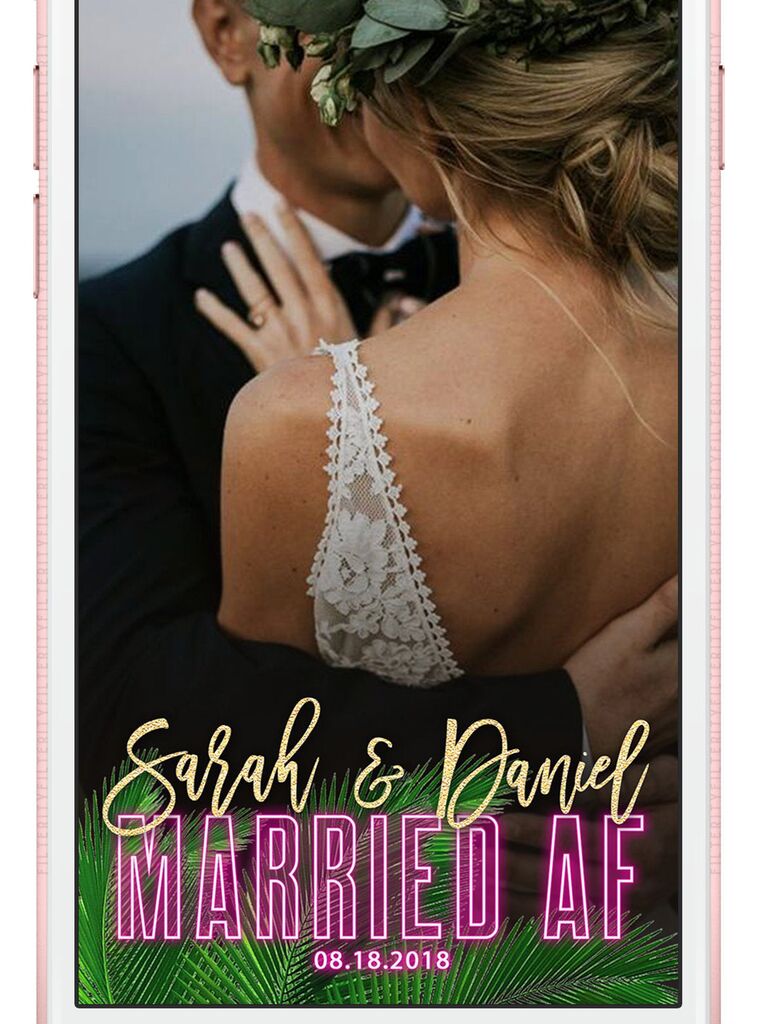 We like this wedding filter's neon light-inspired text and variety of backdrop options, including these fun palm leaves. Consider saving this "married AF" design for after the "I do"s when you're truly "married AF." (And don't forget to put up a sign instructing guests to use it at your reception!)
Filterly Married AF wedding Snapchat filter, from $12, Etsy.com
How Long Will Your Snapchat Geofilter Last?
It's up to you. Your filter can last anywhere from two hours to several weeks. Remember when we mentioned you could technically buy different filters for each of your wedding events? Well, you also have the option to create one filter that lasts for several events (say, from Friday night welcome cocktails through morning-after brunch). This is definitely the way to go if you're looking for a more cohesive design aesthetic.
You'll also need to map out the area, or Geofence, where you want your geofilter to be available (this ensures only those at or near your party location can use the filter). You're welcome to keep your Geofence small, say, around your event venue only—but you can also expand it to cover a larger area that includes spots like nearby hotels where guests are staying (hello, getting-ready Snaps!).
How Much Does a Snapchat Geofilter Cost?
How much is a Snapchat filter? It depends on factors like how long you want it to last, how large your Geofence is, and how popular your party location is for other events using filters. If this is one detail you can't live without, don't forget to make room for it in your wedding budget.
How to Share Your Personalized Snapchat Filter
The best way to tell everyone about your custom filter is on your wedding website, by word of mouth and with visible reminders at your celebration (try a cute sign at the bar or printed on the programs). Ask your wedding party to keep an eye out and spread the word before and during the festivities too. Also, go ahead and lead by example: If you and your wedding party snap photos using your filter, everyone else will want to join in.
If we have one piece of advice, it's to have fun with your wedding geofilter. Want a funny reception design of your Bitmojis popping out of a wedding cake? Do it. Leaning toward an elegant floral motif for an engagement party or bridal shower filter? Sounds perfect. You're paying to make this detail truly yours—so don't be shy.
Disclosure: This post contains affiliate links, some of which may be sponsored by paying vendors.
Updated June 2019